Looks like Domino's is back with another promo!
Everyone is looking forward to the Re'-opening of Malaysia' as everyone is getting vaccinated, and we are aiming for many more sectors to reopen by the time we hit 90% vaccination.
Domino's Malaysia is offering you the best deals with their #SamaSamaJaga campaign. Domino's aims to remind everyone to keep spreading the love and care we #SamaSamaJaga each other throughout the pandemic.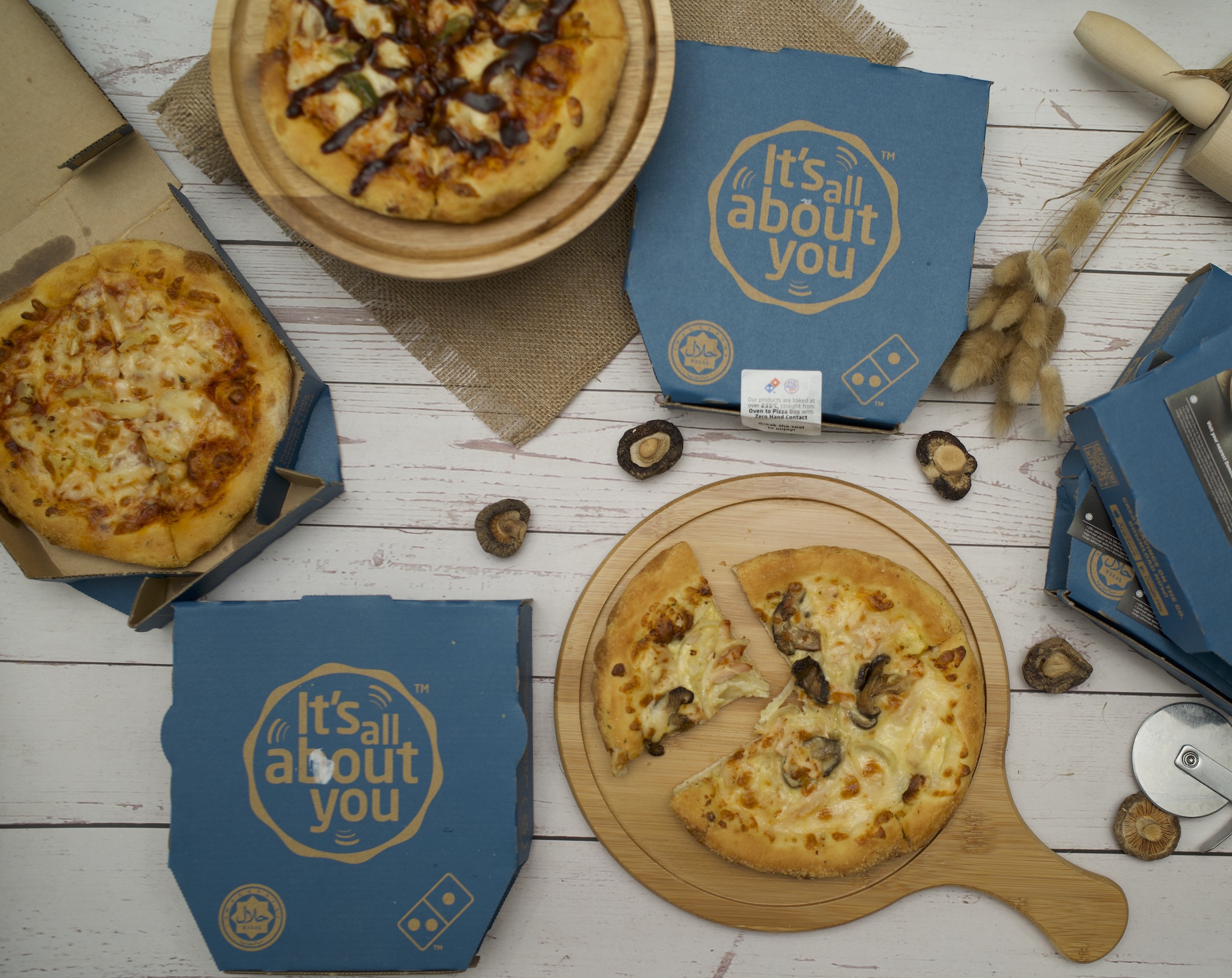 The sama sama jaga deals will be available nationwide from 20 September onwards for take away and online self-collect (Potong Q and Pandu Ambil)
Domino's Sama Sama Jaga deals can offer you some of the best deals to all your loved ones. For a limited time only, Domino's is offering 2 Regular Pizzas for only RM19! But wait there's more, if you're a little hungry you can get 2 Large Pizzas for RM39 and 2 Xtra Large Pizzas for RM49!
The #SamaSamaJaga deals can offer customers up to 70% savings on pizzas! The offer is available from 20 September 2021 and only for a limited time. If you're craving some delicious pizzas, you can sue the offer via takeaway, Pandu Ambil or online self-collect orders Potong Q via Domino's official portals.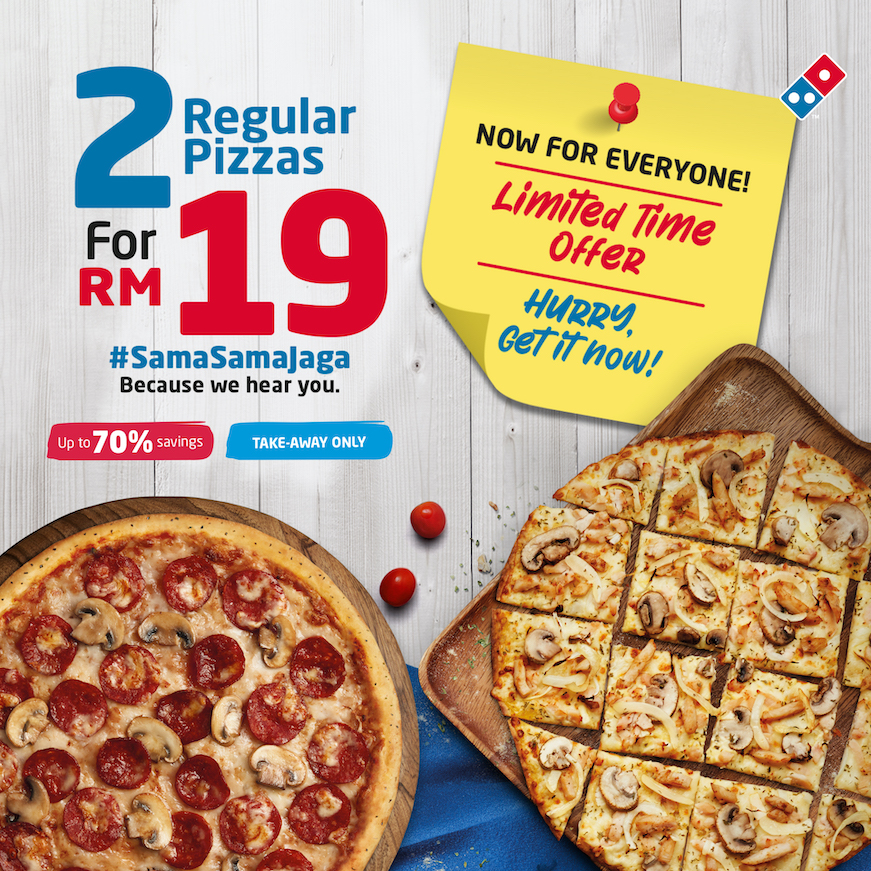 Domino's incredible SamaSamaJaga deals offer up to 70% savings on pizzas. Let's #SamaSamaJaga and spread the love
"We were extremely happy to offer all our customers the Sama Sama Jaga deals for such an affordable price. As Malaysians, we are naturally inclined to care for each other and pull through together during tough times. It is times like these that Domino's wants to remind you of our promise that It's All About You. Everyone deserves to have a slice of love during this time, and we sincerely mean that when we decided to extend this offer to everyone," said Shamsul Amree, Chief Executive Officer of Domino's Malaysia.
How can we enjoy these offers?
It's just a few simple steps! All you have to do is:
Register or log in to https://www.dominos.com.my
Select Take Away option and choice of store
Go to promos and coupons tab and key in the following codes:

For 2 Regular pizzas at RM19 (4 pax). Key in Code: MEGA19R

For 2 Large pizzas at RM39 (6-7 pax). Key in Code: MEGA19L

For 2 Xtra Large pizzas at RM49 (9-10 pax). Key in Code: MEGA19XL
We'd like to give a shoutout to Domino's for sending us Pizzas over to the office!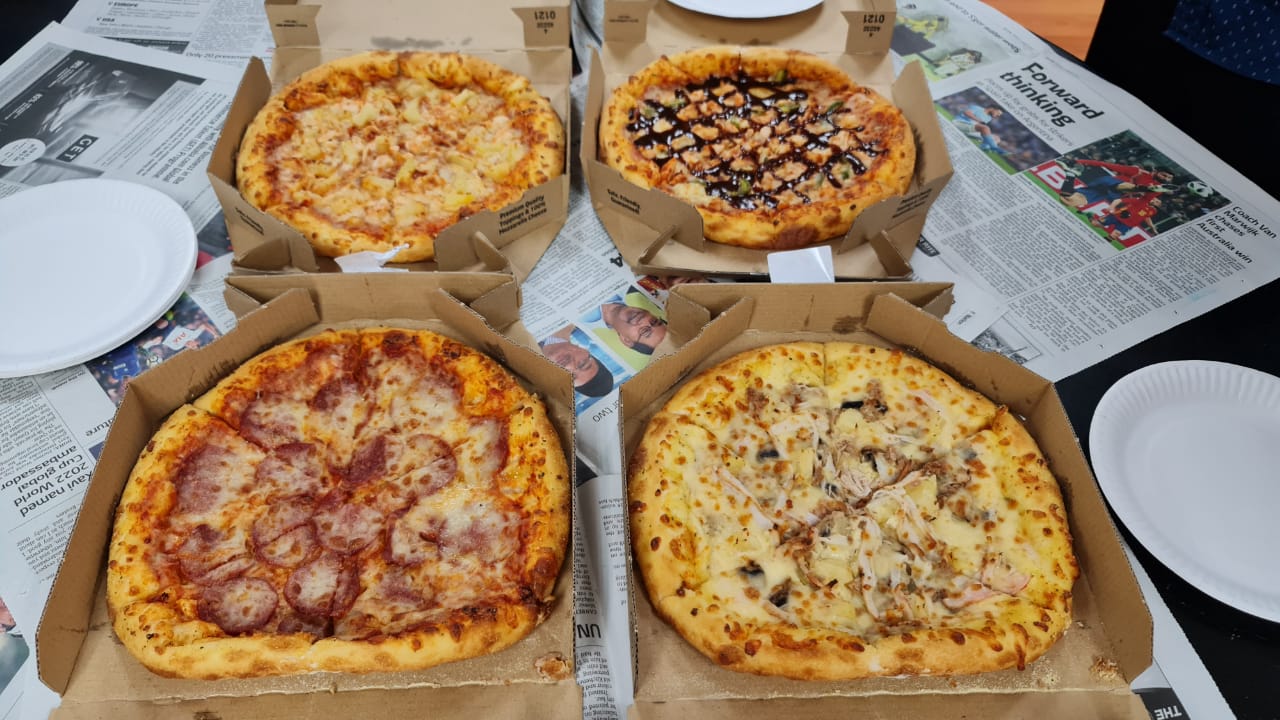 Here are some words from us in the office!
"As we didn't buy MoonCakes in time this year .. the next Best Idea for #MoonPizzas! 🌝🌝🍕🍕 #Dominos is always reliable for sharing caring moments when you have a Group of Friends Near and especially those Far from Home" ~ Jason Ko
"Toppling my hunger since 1997. Thanks Dominos 👍🏻" ~ Bryan Lim
It's never a no for #dominos, always ready to make the tummy happy❤️ ~ Manisha Adhikari
I trust in the crust... just like how I trust #Dominos to always have my back (or Tummy)! ~ Tristan Lim
When you have very tight schedule, Dominos always the best choice for lunch! ~ Intan Lainie
#Dominos makes me and my tummy the happiest ☺️ ~ Alessandra
You can never go wrong with #Dominos, always enjoyable no matter the time of the day! ~ Nabil Luqman
FOMO much? Follow our Facebook and Instagram for more updates.